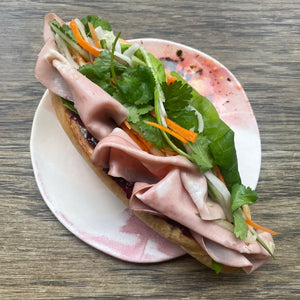 Christmas Bahn Mi
A Christmasy twist on a traditonal Bahn Mi. Spence Bakery roll, Chicken liver parait, mortadella, cranberry & ginger jelly, daikon, carrot, cucmber, lettuce, corriander & spring onion.
Allergens: Nuts, Dairy, Gluten, Sulphites, Soy, Sesame.
PLEASE READ THE FOLLOWING VERY CAREFULLY
AVAILABLE FOR PICK UP ONLY ON NOV 26th from 11am - 2.30pm. Pick up is from Wander 214 Stoke Newington High St N16 7HU during our Wander x Ceramics market If you do not pick up within the timeframe you will not be refunded.
Sandwiches are designed to takeaway but we will have a small space on the bar by the window if you want to sit down and eat. On the day we will also have mulled cider and soft drinks for sale

Our meals are prepared in a kitchen that contains eggs, fish, milk, peanuts, sesame, crustaceans, soy, nuts, tree nuts, gluten, lupin and sulphites. Though best practices are used in preparing the meal, inadvertent cross-contamination may occur. We cannot guarantee the complete absence of these allergens.